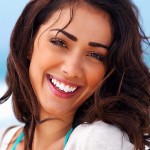 Tooth whitening is a safe and non-invasive procedure that uses either carbamide peroxide or hydrogen peroxide to whiten teeth.  At Devon Street Dental Clinic, we use POLA whitening products from SDI – http://www.polawhite.com.au/what-is-pola/what-is-pola.asp
There are 2 methods of professional tooth whitening:
1. Take home whitening trays – custom made mouth trays together with whitening gel tubes, used 15-30mins a day for 14 days at home.
2. In-office whitening – whitening gel placed on your teeth and "activated" by a curing light to speed up the whitening process.  This usually takes 1 hour in-chair time.