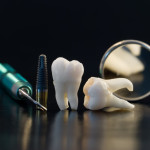 A tooth may be extracted for various reasons.  It may be too badly damaged, or decayed, to be saved by root canal treatment, or it could be causing crowding, preventing a tooth from erupting, or be loose from advanced gum disease.
Anaesthetic is used to numb the area, the tooth is grapsed and slow, controlled movements are used to loosen the tooth from its socket.  If the tooth is not fully erupted, it may be necessary to remove the overlying gum and bone to expose the tooth first.
After the tooth is removed, a blood clot forms in the socket and the socket will heal in the coming weeks.  It is very important to follow post-extraction instructions given to you by the dentist to avoid any complications.